Painting Your Kitchen Cabinets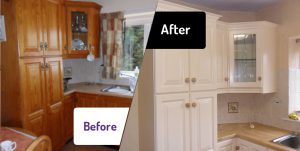 Kitchen cabinet painting is a process of renewing the appearance of your cabinets by applying a new finish or paint to them. It can be a cost-effective way to update the look of your kitchen without having to replace your cabinets entirely.  If your kitchen cabinets are in good working condition, why not repaint them?
Sarah Harris Designs is specializes in kitchen cabinet painting. We offer a variety of services to help you update the look of your kitchen cabinets, including refinishing with paint.
Here's an overview of the process Sarah Harris Designs uses to refinish kitchen cabinets with paint:
Assessment: The first step is to assess the condition of your cabinets to determine the best approach for refinishing. We will look for any damage or wear on the cabinets and make recommendations on how to address them. We will give you a free estimate to complete the job.
Preparation: Before painting, we will remove all cabinet doors and hardware. We will also protect your countertops and floors with drop cloths and masking tape as necessary.
Cleaning: The cabinets will be thoroughly cleaned to remove any dirt, grease, or other contaminants that may interfere with the paint adhering properly.
Sanding: Next, the cabinets will be lightly sanded if necessary to remove the old finish and to create a smooth surface for the new paint to adhere to.
Priming: A high-quality primer will be applied to the cabinets to ensure that the paint adheres properly and evenly.
Painting: Sarah Harris Designs uses only professional-grade paint to provide a durable, smooth finish. We will use a spray gun, brushes or roller to apply the paint, depending on the specific needs of project.
Finishing Touches: Once the paint is dry, the cabinet doors and hardware will be reinstalled, and any adjustments will be made to ensure that everything fits and functions properly.
Cleanup: Finally, Sarah Harris Designs will clean up any debris or materials left over from the painting process, leaving your kitchen looking fresh and clean.
Contact us today to get a free estimate to update your kitchen with like-new painted kitchen cabinets.  We service the areas of Auburn, Skaneateles, Syracuse, and surrounding cities in central New York.